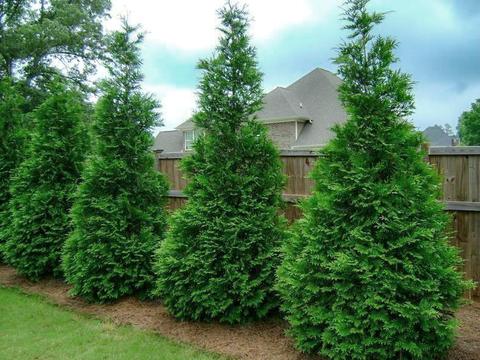 Need to add a little seclusion to your yard? Nowadays with houses being so close to one another it's hard not to see your neighbors trash cans sitting outside. The best way to have a little privacy is to add some landscaping. Not only will this give you the privacy you're looking for, but will also spruce up your yard. Here are just a few ways to make your outdoor living space more private.
Privacy evergreens are a great start. They can provide year round privacy and are typically not municipal ordinances limiting their height. If you need to fill tight spaces quickly, growing columnar evergreens such as Arborvitaes, Spruces, or Hemlocks can be a great solution for blocking sight lines and separating adjoining yards.
Pergolas are great for privacy! There are so many different things you can do with your pergolas to make them your own. They have ones with lattice and a privacy wall, or you can opt for just the privacy wall. You can add your own curtains and customize or have climbing vines drape down. Pergolas are a great asset to your outdoor living area and can make for beautiful decorations aside from privacy.
An oldie but goodie that is most commonly used in neighborhoods everywhere are privacy fences. Adding landscaping in front of your fences such as different flowers and small shrubs can complement any kind of fencing you choose, not to mention it can also break up fencing sight lines.
No matter what kind of privacy you decide to have in your outdoor oasis, making it your own is the best part. The possibilities are absolutely endless and at Knutsen Landscaping we are here to help you every step of the way!