Maximize Your Property's Potential With a Custom-Designed Outdoor Space
Create an outdoor living space that your friends will talk about and your family will love. A professionally designed and installed outdoor entertainment space will raise your home's value, increase appeal and beauty, and gives you a comfortable space to relax and fully enjoy your backyard.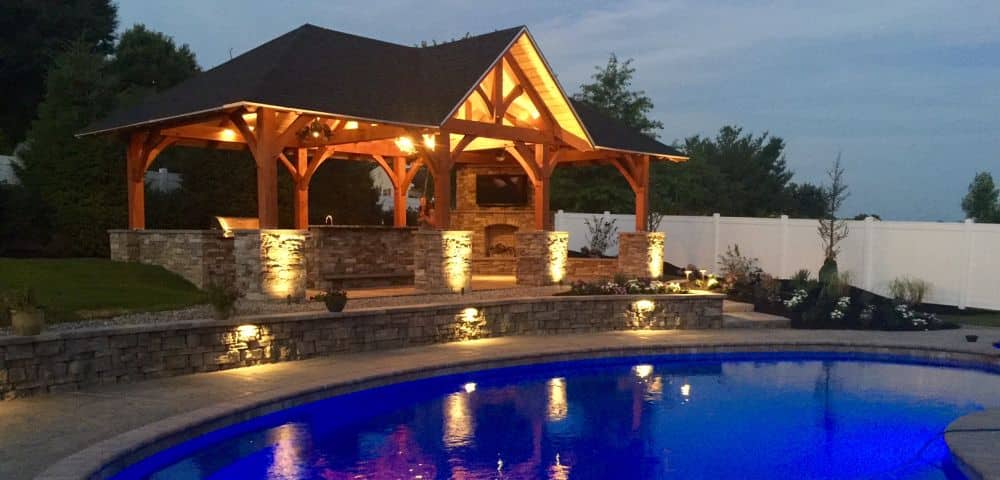 Outdoor Living Design Services
Design and plan development
Outdoor fireplaces
Fire pit design and installation
Outdoor kitchens & grilling areas
Water features
Outdoor structures (pavilions, pergolas, etc.)
"Fabulous job and so easy to work with – I am loving it! We have entertained large groups several times now and the patio and seating walls are wonderful. People keep asking if they can move into our back yard. Thanks again for a beautiful patio!" – Peg Saunders
Outdoor Living Space Gallery
A patio designed for entertaining is the perfect way to host guests, a dinner party, or your next family gathering. Whether you want a grand outdoor kitchen, a built-in fireplace or fire pit, or a patio along your pool where you can relax, upgrading your outdoor entertaining space is well worth it in terms of comfort and usability.
Here are a few outdoor living spaces we've helped clients design and build.
Our Outdoor Entertainment Space Design Process
No two projects are alike, but most follow our tried-and-true process for design and installation. Depending on the size of the project, material availability, and time of the year, most of our projects take 4-8 weeks from an initial meeting to completion.
Initial Meeting
During our initial meeting, which we will hold at your home, our goal is to get a better idea of your outdoor space needs, dreams, and scope of the project. We'll ask you for examples or inspirations, whether it is a neighbor's house or something you've seen in a magazine or on Pinterest. At this meeting, we'll also talk about your budget, material options, and even start sketching out a rough draft of the project.
Design and Proposal
The next step is for our designer to create a design for your project. Our design process is interactive and open, so you'll get photos and links to past projects or ideas we have showing up in your inbox. In the case of larger projects, we may need several additional meetings to finalize products and layouts. We can even paint lines on your existing landscaping so you and your family can get a better feel for the scope of the project. At the end of this stage, we'll send you a proposal for the project.
Installation
Once the proposal is signed, we'll order the materials and schedule the installation. Our team of professional hardscaping installers are certified by the Interlocking Concrete Paving Institute (ICPI), having received hours of classroom instruction and passed a rigorous examination. This means your hardscaping projects will be installed using industry-leading practices and materials.
Contact Us for an Outdoor Living Space Consultation
To request a personal consultation, call us at 717-560-1593 or use the form below. We typically respond to requests within 1 business day.