Enhance Your Outdoor Living Space With a Professionally Installed Light System
Well-placed exterior lighting adds a layer of depth and beauty to your home's landscape. A professional landscape lighting system not only complements your home, walkway, and plants – it creates a safer and more pleasing outdoor space.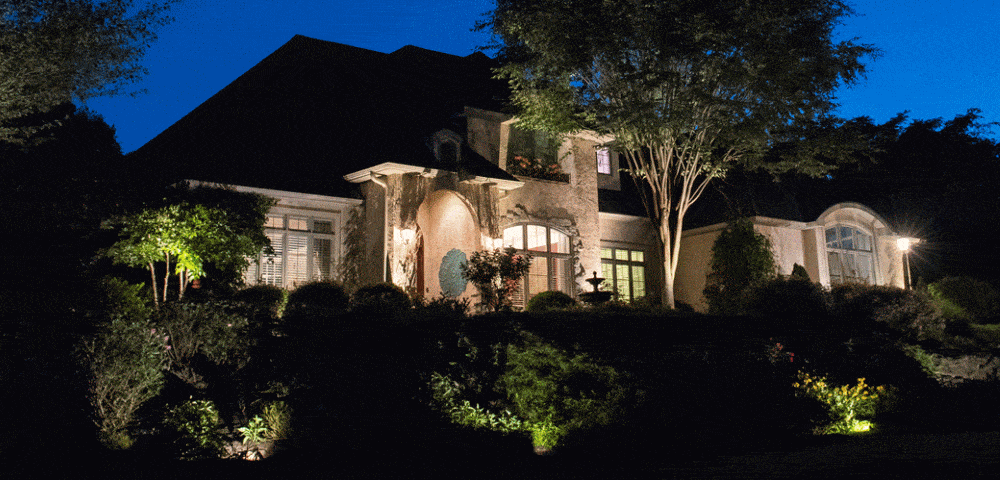 Landscape Lighting Design Services
Outdoor entertaining & functional lighting
Highlighting
Shadowing & silhouetting
Up-lighting
Path and driveway lighting
"Knutsen Outdoor installed our front walkway, doorstep, and landscape lighting. They were on time, friendly, and very tidy throughout the entire project. Everyone on the project took time to answer our questions, walk through options with us, and give us design options on landscaping after the project was complete. We highly recommend their services!" -Peter and Jennifer West
Exterior Lighting Project Gallery
Update the visual appeal and usefulness of your property with professionally designed landscape lighting from Knutsen Outdoor. Our team of certified designers and installers can give your backyard a complete renovation that you and your family will love and enjoy for years to come.
Here are a few projects that we've completed for our clients.
View Landscape Lighting Gallery »
What is the Lighting Design Process?
Our team of landscape designers can work with you to create a visually stunning illumination of your yard. We'll ask you questions about your goals for your property's lighting, then draft up a design that meets your needs. If you'd like, we can also set up a few test lights on your property, so you can see how they will function.
CAST® Lighting: At Knutsen Outdoor, we are proud to be CAST®-certified lighting installers. CAST's large selection of low-voltage corrosion-resistant bronze light fixtures hold up well in our southcentral Pennsylvania climate, and they look great too. The Classic, Impressionist, and Craftsman Series lights come in a variety of options, and every fixture has a lifetime warranty.
Initial Meeting
During our initial meeting, which we will hold at your home, our goal is to get a better idea of your landscape design needs, dreams, and scope of the project. We'll ask you for examples or inspirations, whether it is a neighbor's house or something you've seen in a magazine or on Pinterest. At this meeting, we'll also talk about your budget, material options, and even start sketching out a rough draft of the project.
Design and Proposal
The next step is for our landscape designer to create a design for your project. Our design process is interactive and open, so you'll get photos and links to past projects or ideas we have showing up in your inbox. In the case of larger projects, we may need several additional meetings to finalize products and layouts. We can even paint lines on your existing landscaping so you and your family can get a better feel for the scope of the project. At the end of this stage, we'll send you a proposal for the project.
Installation
Once the proposal is signed, we'll order the materials and schedule the installation for a timeframe that is convenient for you.
Contact Us for an Outdoor Lighting Consultation
To request a complimentary landscape lighting system consultation, call us at 717-560-1593 or use the form below. We typically respond to requests within 1 business day.