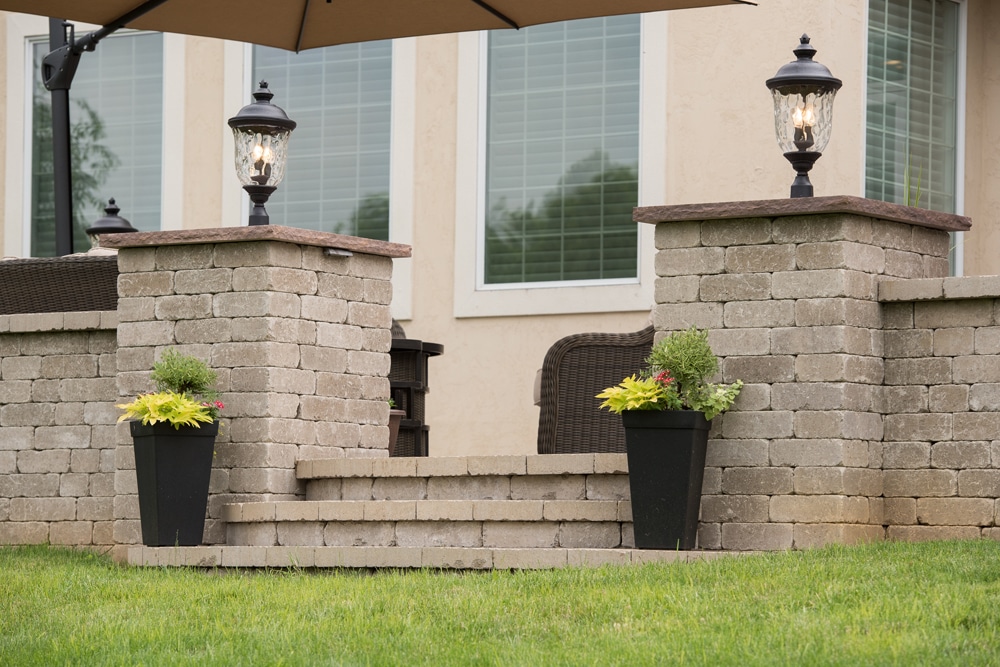 Whether you are preparing your home for the market or seeking to increase your personal enjoyment, hardscaping is one of the best ways to add value. "Remodeling Impact Report: Outdoor Features," by the National Association of Realtors (NAR) and the National Association of Landscape Professionals (NALP) confirms that investing in hardscaping is in a homeowner's best interest. Missy Henriksen, NALP vice president of public affairs, states, "Homeowners working with a landscape professional to embark on renovations whether that means enhancing their turf and growing a lush lawn, overhauling their entire landscape, or incorporating new features like patios or exterior fireplaces can rest assured that they are making a smart, worthwhile investment."
There are four basic benefits that hardscaping brings to your home:
Safety and Privacy
Seat walls provide privacy and protection against the elements, and landscape lighting along paver walkways and patios, or under retaining wall caps, offers night time ambiance and functionality.
Preventing Erosion
Retaining wall systems are essential in preventing the damage to your property as well as the major headaches caused by erosion. In some cases, these can escalate to damaging your home. For instance, a yard that slopes steeply toward your home's foundation is an easy way for water damage to become an issue. A well-designed and installed retaining wall system can create a positive flow away from the foundation, while also creating usable steps or space for flower beds and seating.
Making Unusable Space Usable
Depending where your home is situated, you may have sloping hills that are difficult to maintain and that offer no usable space. These areas are prime candidates for retaining walls, seat walls, flower beds, or foundations that could accommodate a pergola or other structure. Why not optimize the usefulness of every area of your property?
Curb Appeal
Most real estate agents will agree that your home's first impression is paramount when preparing it for sale. Retaining walls and paver stone edging around gardens are simple updates that dramatically add value and curb appeal. For even greater impact, consider more ambitious projects like a front paver stone entrance with a patio and a seat wall or two.
For most homeowners, there is immediate and lasting value to be gained from adding hardscaping to your outdoor living space. Contact the design professionals at Knutsen Landscaping to determine the best options for your property, and see the impact for yourself!