As spring approaches and you begin pondering which outdoor projects to move to the top of your to-do list, consider laying a lasting foundation for your eye-catching patio, garden walkway or driveway that will add both beauty and value to your home for years to come.
Knutsen Landscaping has long believed in the performance benefits of permeable open graded stone installations for these projects.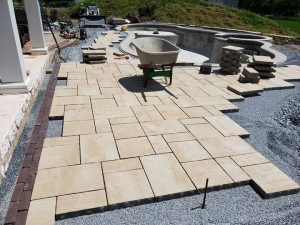 "It has taken the rest of the industry a while to come around. We have been laying patios in this fashion for many years, and the experience we have gained shows in our final product," says Andy Knutsen, president.
Knutsen Landscaping is currently participating in a study with the Interlocking Concrete Pavement Institute to demonstrate the durability that open grade paver installations provide. Studies are showing that more commercial developers are choosing to use a permeable base model for all installations. The size and thickness of these permeable bases can vary and is determined by traffic loads, soil strength, subgrade soil drainage, moisture and climate, making them much more adaptable and economical.
Pavers have a rustic beauty that come in a vast array of shapes, patterns, colors and textures and are more visually appealing than concrete slabs. By replacing your cement driveway, old walkway or concrete patio with permeable pavers over an open grade stone foundation, you are not only building something that will last generations, you are also increasing the value of your home while improving the environment that surrounds it.
An open graded stone foundation also promotes the natural water cycle. With open graded stone, drainage disperses evenly throughout the patio or walkway area in a much more natural fashion. Proper filtration can reduce pollution density and foster the overall health of your home's environment. It will also help to prevent the damage to your property caused by erosion. Especially with the freeze-thaw cycles here in the northeast, your patio will be unaffected by these changes in conditions over time.
Feel free to call or email us about building a patio or walkway or refinishing a driveway using pavers with a permeable base. We will be happy to work alongside you to make any outdoor project one that lasts a lifetime.