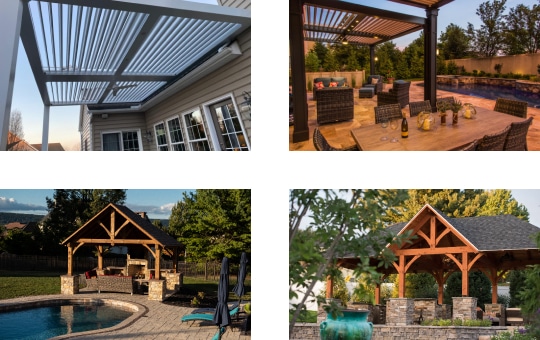 In recent years, outdoor living spaces have grown more and more sophisticated. Many property owners aren't looking for a simple outdoor space anymore and choose to incorporate structures into their outdoor living spaces:
Modern Louvred Pergolas
Timber-Framed Pavilions
Patios
Pools and Pool Houses
Outdoor Kitchens
Fireplaces and Firepits
These structures may be made of wood, steel, aluminum, and other materials, according to your wishes and budget.
StruXure Pergolas
Traditional pergolas were meant to provide shade and often covered with vines, but the modern generation of these multi-function structures offer far more. StruXure-brand pergolas have pivoting, louvered roofs, conveniently controlled with a remote or smart phone app. They close, slide, or pivot as you wish, offering a completely waterproof solution without cutting down on the natural light in your home.
Pavilions
The sturdy yet open look of a pavilion has become a popular addition to the outdoor space. You can enhance the landscape around your pool, deck, or fireplace with this waterproof, shady solution that offers both function and beauty.
Patios
The patio has long been a cornerstone of landscape design. Patios will serve to support grills, tables, chairs, and other structures, in addition to providing visual interest and durable traffic space. Using materials such as pavers, brick, or flagstone is the best choice for the most durable and long-lasting patio.
Pools
A major feature for many outdoor areas is the swimming pool. For many, a pool is the gold-medal element of enjoying outdoor living. And options for the backyard pool are almost unlimited. Features like lighting, intricate shapes, foliage and rocks, waterfalls, and even fire features offer options for design to match even the wildest imagination. A well-designed pool adds character and intrigue to the entire landscape.
Pool Houses
Offering invaluable storage as well as beautiful structure to conceal pool equipment, a pool house can enhance your aquatic space. Consider a bar area with amenities for hosting your family and guests conveniently.
Outdoor Kitchens
As an extension of the cooking space inside your home, an outdoor kitchen can feature a bar, grill, sink, refrigerated storage, and more. Hosting is simplified, and you can serve guests without leaving the party! Enjoy modern finishes and durable surfaces to enjoy a balance of fashion and practicality.
Fireplaces
Outdoor fireplaces cast a beautiful, flickering light for ambience after a day of swimming and extend the use of your outdoor space into cooler months. With beautiful patterns and materials to make the structure both useable and stunning, outdoor fireplaces can be a focal point for your outdoor living area.
Firepits
The unique design of our wood-burning Breeo-brand smokeless fire is a double-wall design. Small holes in the bottom of the inner chamber coax hot air between the walls. Their unique engineering creates a secondary combustion that burns the smoke created from the fire until it's almost undetectable. This practical gathering space adds ambience as well as a functional heating and cooking tool.
Gas fire pits offer the convenience of lighting, atmosphere and heat on demand, with the simple click of a button. Additionally, there's no clean-up of ashes or stacks of wood to take up space.
Hardscaping
Molding and reshaping softscape (horticultural elements) in the landscaping is relatively easy, but the hardscape is much more durable and permanent and require more forethought. Hardscape elements may include:
Driveways
Sidewalks
Retaining walls
Stairs
Sleeper walls
Besides adding a visual and tactile contrast to the softscape, hardscape is a key to managing the irrigation and soil movement on a property.
To lock in this savings on your outdoor living project, call Andy at 717-872-2500. You can also fill out our online form, and we'll get back to you with a quote for your project.
---