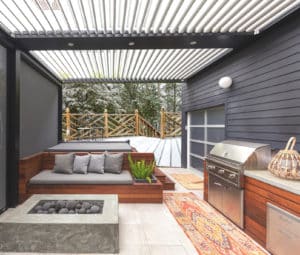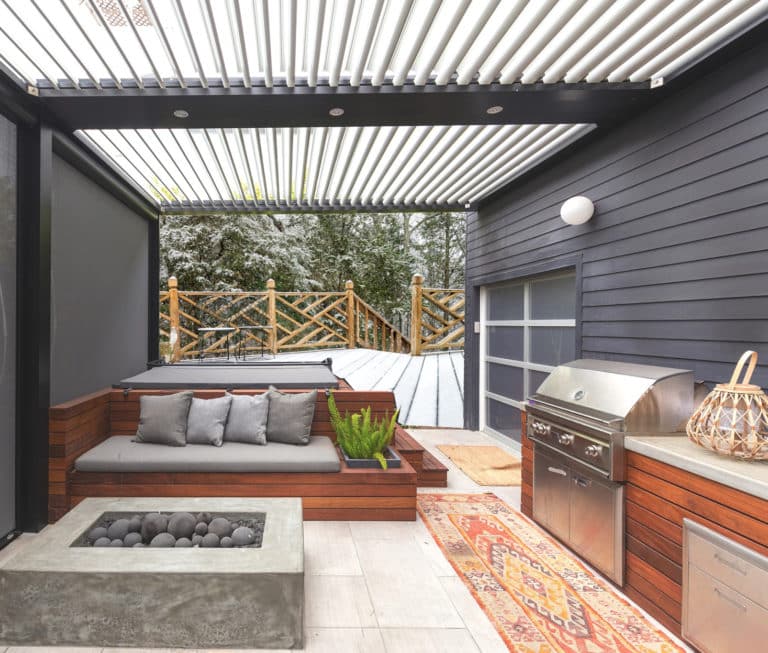 Sinking into a cozy hot tub is the perfect way to relax after a crisp fall day or even a day of shoveling snow… as long as the snow isn't still falling onto your head! How can you better enjoy your hot tub year-round?
A louvered pergola over your hot tub is the perfect addition to your backyard. With our state-of-the-art technology, you can adjust it to provide cover and keep your hot tub clear of winter's worst while still using the warmth of the sun in the afternoon to aid in heat absorption.
Our louvered pergolas also come in handy if that fall drizzle or winter snow tries to hinder your relaxation plans. All you have to do is close the pergola until you're finished enjoying your time in the hot tub. Our unique state-of-the-art louvered pergolas allow you to truly outsmart the season, and soak up every minute of hot tub enjoyment.
At Knutsen Outdoor, we are always exploring new ways to enrich your experience working with us to achieve the property of your dreams. That's why we are so excited to continue bringing you premier service by partnering with StruXure, as their exclusive dealer in the Lancaster, Lebanon, Harrisburg, and York area.
At Knutsen, we are always expanding the scope of our business, in order to bring you, your family, or your business the newest and most innovative services as possible. Along with StruXure, we guarantee comprehensive planning, proper installation, and better design. As always, our top priority is your satisfaction, and your confidence in a job well done.